Posted 11th June 2014 | 4 Comments
Debt-ridden French railways are hit by strike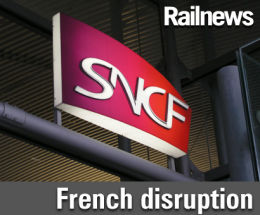 A GROWING financial crisis on French railways has triggered a strike by rail workers, who are angry about the effects of impending cost-cutting measures.
The 24-hour walkout by SNCF staff has caused TGV operations to be slashed, with only one train in three running in some areas.
SNCF had warned that the stoppage would cause 'significant disruption'. Even before it had begun unions were threatening to extend the action if their demands aren't met.
Gilbert Garel, the general secretary of the CGT union, told one French radio station: "The rail workers will not go back to work without written guarantees from the government for a modified reform."
Although TGV services have been sharply reduced, most Thalys services are running between Paris and Amsterdam. Eurostar is reporting delays to some trains, but is still offering a full timetable.Train services in the Paris region are also badly affected, including the cross-city RER Line B.
The industrial action comes just a week before the French parliament examines railway reforms, which could launch open access in France and also merge SNCF and RFF, which is heavily in debt. The French railway industry's total debts are now standing at more than €40 billion and there are fears that this total could double by 2025 unless the industry is restructured, but union leaders say the merger plans do not go deep enough and will fail to solve the debt problem.
Transport minister Frédéric Culliver insists the reforms will allow France to "weigh in on the debate on the future of rail in Europe" while "defending a model that is 100 percent public, unified and euro-compatible".
To make matters worse, taxi drivers are also striking today as part of a wider protest across Europe about the effect of private hire cab firms like Uber.
Reader Comments:
Views expressed in submitted comments are that of the author, and not necessarily shared by Railnews.
While Network Rail announces a Billion pound profit !



So many nationalised railways get in to debt problems. More and more are looking to privatisation. I think the Italians have got it right in that they allow private operators to run trains alsom which provides competition and takes a lot of the burden off Trenitalia. I find the SNCF to be too restrictive. What's worrying is that this could have repercussions in the UK due to Govia. It's not looking like the UK can get rid of Keolis any time soon.

The French have a level of debt about the same as Network Rail. Both are growing. However travelling through France (in contrast to the UK) by rail is a depressing experience with unused rusting wagons everywhere stuck in small sidings. The rural lines have one train a day (if your lucky) and are not really used because the inhabitants of the countrside are so poor. One village I saw recently had all 60 odd houses up for sale. France is now getting the same sort of reality check that Beeching gave the UK. It couldn't happen in the UK again, could it ?