Posted 10th April 2014 | 11 Comments
McLoughlin issues 'keep calm' message over HS2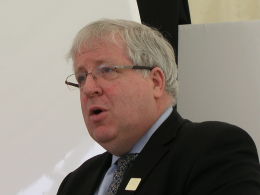 THE transport secretary has called for the railway industry to 'keep calm' over the continued criticism of HS2 which is coming from various opponents. Speaking at the Derby & Derbyshire Rail Forum's annual conference today, Patrick McLoughlin said it was not his place to 'castigate' opponents, but the fact remained that HS2 was vital to deal with the railway capacity crunch.
The next stage is the Second Reading of the Hybrid Bill which will authorise the building of the first phase of HS2. Mr McLoughlin said: "When the pioneering London & Birmingham Railway Bill was presented to Parliament in the 1830s, the first attempt was thrown out. But the West Coast Main Line, of which the L&B was an early part, is now the busiest railway of its kind in Europe.
"And it cannot cope. We spent £9 billion upgrading the route north of Rugby, but it wasn't enough to deal with demand.
"And for those who claim further upgrading of existing lines is the answer, last winter there was one railway which wasn't disrupted by extreme weather. That railway was HS1, which was built to modern engineering standards. That resilience is what we need on HS2.
"One problem is that we tend to get fixated by benefit/cost ratios. The BCR for the Jubilee Line extension through Docklands was less than one per cent. But without that line there would be no Canary Wharf. No world class regeneration in East London.
"And you can see the same effect in other parts of London. The modernisations of St Pancras and King's Cross have achieved a transformation. Ten years ago St Pancras was not a station where you wanted to be more than was strictly necessary to catch your train. Now look at it.
"Just outside, the Crick Institute is being built. It will be one of the world's main scientific centres, next door to HS1. We are also investing more than £14 billion in Crossrail.
"But I want to see these effects in the cities of the midlands and north as well. I want to see the same kind of development in Birmingham, Manchester and Leeds, for example. HS2 will achieve this."
"Will there be more criticism in the coming months? Of course there will. Opposition to big projects is nothing new. But we will keep a calm head, because what we are doing is right."
Reader Comments:
Views expressed in submitted comments are that of the author, and not necessarily shared by Railnews.
If HS2 phase 1 is built there will be a redistribution of business activities between London and Greater Birmingham, but contrary to the claims being made, the balance will more likely see a shift of premium business activity away from the provinces, with economic growth in the provinces being around commuter dormitories and associated services. Local growth may also include SMEs attracted by relatively low rents that would have otherwise setup in London, but they will not be big employers.

Local impact is likely to see a rise in property prices in the vicinity of the stations forcing a substantial number of the locals out of those areas. This is not going to bring on the instant revival people are being lead to believe in.

I'm not sure what is meant by fight-back; the regions are non-performant in non-services because they can not compete on a global scale due to relative costs - HS2 will not change that. The provinces are only going to get the transient, low-hanging fruit in services.

The Jubilee Line went ahead with funding from businesses because of the unexpected growth in commuters due to the success of Canary Wharf, not the other way around.


Rubbish; HS2 has not been fully costed, and there are unresolved concerns about the project. The Government's under stated motivation for HS2 is to get funds into Civil Engineering, and to proved an asset for capital investment. If boosting provincial economies was the primary concern, this would be better achieved by investment in local commuter services with better BCRs than HS2, but the latter have been rationed funds to a degree in the CP5 settlement to keep the books clear for HS2.

There may be a need for additional capacity, but not at any cost, and not for a project that was dreamt to fill-out an election manifesto on the back of a beer mat.

Comments referencing the weather a HS1 are rubbish - the minister has a short memory. HS2 will suffer the same problems, which will be all the harder to resolve with only two tracks and limited access from the national network - the latter as yet not covered by the funding projections.

A little analysis would not be amiss from the so called supporters of HS2.


Great to hear some really positive messages about HS2 coming from the Transport Secretary. There is no doubt that a High Speed network is the best way forward, both to relieve our existing Victorian network and to boost some of the Northern cities.
The total cost is actually quite reasonable when compared to other major national infrastructure projects and because the expenditure is spread over a long time-scale it is very affordable. As I've said previously, this new network will be in use well into the next century and as time moves on the cost of building it will become less and less significant. Is anyone still protesting about the cost of building the GWR or even its alignment?
The "No" campaigners have had it easy for far too long. It's time that the majority stood up and showed the strong support that modernising our railways really does have across the country.


We used to have self driving road transport it was known as horse and carts with horse knowing its way home when owner had too many drinks!

We had the self-parking car showcased in 1990, and it's still not caught on 24 years later.

Whilst I am a passionate supporter of High Speed Rail and wish that we had a comprehensive HS Network reaching all points of our great nation, I fear and expect that the Self driving car will probably make rail obsolete by the end of the next decade...

It'll be quicker to have your car take you door to door, without any effort. And road lane densities will probably treble, making our existing network quite adequate for a long time to come.

Good strong words from McLoughlin. We do need HS2, but there is no doubt that it could be done quicker and much better. I hope they do consider lowering the top operational speeds as 350km/h is a little excessive, especially since the UK is such a small country, and will consume a huge amount of energy. Just get HS2 done quickly and with minimal cost to the environment!!!!!!!!!!!

I think we now know what is behind the objections from those in the south east. They want to keep all the wealth down there and are quite aware that HS2.will be a real force to allow the regions to begin the fight back.

My thoughts exactly, except Patrick McLoughlin has put it a lot better than I ever could!

Patrick is total right about BCR or Bean Counters Rationing given how London Victoria Line was subject to this formula and passengers have suffered ever since from narrow platforms, fixed stairs instead of centre escalators, lack of step free access and indeed cancellation of 2nd entrances.

And since then billions have been spent putting right some of the stations will billions more needed if all stations are to be brought up to scratch !

In fact the Jubilee Line Extension and even some motorways (!) would have not been built and just think what Canary Wharf is worth to the British economy something that would have been stalled at birth had JLE not been built!

Parliament debated its agenda today and that included time for next Reading of HS2 bill with antis trying to get more time but they are so few in number given paving bill got 300 votes they Harding count!

It seems it HS2 bill gets same or even more support at second Reading then serious work may finally get underway on the project.

While we also have a new proposal from Greengauge 21 for a HS1-2 link which would extend HS1 javelins across London and maybe Eurostars to Heathrow where customs and immigration are already available for HS Rail to share .