Posted 4th December 2013 | 2 Comments
Midland Main Line gets ready for 125mph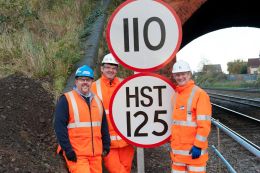 Richard Walker, route delivery director (East Midlands) for Network Rail, Dave Diskin of Carillion and David Horne, managing director East Midlands Trains, are seen near Bedford
THE first in a series of new 125 mph speed signs on the Midland Main Line route to London has been unveiled by East Midlands Trains and Network Rail, as the operator gears up to launch its new timetable with faster journeys to London in five days from now.
The signs are part of a £70 million line improvement scheme from Network Rail in partnership with East Midlands Trains, which will allow trains to London to operate at speeds of up to 125 mph on certain parts of the route for the first time ever, apart from special test runs.
The work now being done also includes preparation for electrification, which will cover the routes to Corby, Nottingham and Sheffield by 2019.
The programme being completed by Network Rail includes a total of 256km of track which has been upgraded to allow faster line speeds, the replacement of a number of level crossings with bridges, minor resignalling, and work to realign parts of the track.
This will allow East Midlands Trains to reduce the average weekday journey time between Sheffield and London by seven minutes, between Nottingham and London by five minutes and between Derby and London by four minutes. Once the scheme has been fully completed by Network Rail, East Midlands Trains will seek further improvements to journey times during the coming year.
EMT managing director David Horne said: "East Midlands Trains services on the Midland Main Line route to London now carry more than 13 million passengers a year and the route provides a vital artery for South Yorkshire, the East Midlands and Northamptonshire.
"Faster journeys are vital for economic growth and this major investment in track and signalling will help us to provide faster and more reliable journeys for our passengers travelling to London.
"These latest improvements to our timetable highlight just how much service levels have improved since franchising began in 1996. We're already offering double the number of services every day between Sheffield and London, and from 9 December, the average journey time will drop to 2 hours and 9 minutes, a reduction of almost 20 minutes from 1996."
Phil Verster, route managing director for Network Rail, added: "The Midland Main Line is an important railway as it connects communities in the East Midlands and provides a key commuter route to London. Our £70million investment will allow trains to run up to 125 mph on sections of the route, bringing significant social and economic benefits to the region through faster journeys and improved reliability. We are working closely with East Midlands Trains to complete the final stages of this programme of investment."
Reader Comments:
Views expressed in submitted comments are that of the author, and not necessarily shared by Railnews.
Does this mean the 68-min non-stop journeys from Leicester to London will be 64 min? Excellent. Will this start with the Dec timetable?