Posted 20th November 2013 | 1 Comment
ScotRail franchise plan appears to rule out DOO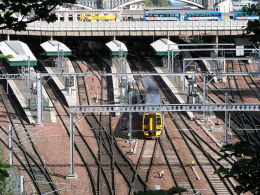 TRANSPORT Scotland has published the Invitation to Tender for the next ScotRail franchise, which promises faster trains, restraint on fare rises and the introduction of smartcards.
There will also be 'an improved service for cyclists and disabled travellers who wish to travel more spontaneously than current arrangements allow', and the journey time on the newly-electrified route between Glasgow Queen Street and Edinburgh will come down to 42 minutes. There will be a renewed focus on rural services and their importance within the tourist industry as well as for local people.
The franchise, which starts in 2015 but will exclude the Caledonian Sleepers, is the single biggest contract let by the Scottish Government.
Other features of the next franchise will include better protection for the staff it employs, with all those directly employed by ScotRail earning at least the Living Wage.
All trains will have 'at least two members of staff', effectively ruling out complete DOO, although judging by recent developments in Scotland it is possible that the second staff member could be a ticket examiner rather than a conductor/guard controlling the doors. When a ticket examiner is employed all operational control passes to the driver, although this development has been criticised by rail unions who say it represents a degree of downgrading.
The franchisee will also be required to introduce apprenticeship schemes for more than 100 new recruits in customer service and engineering.
Transport minister Keith Brown admitted that the specification was 'challenging'.
He said: "The specification I have set out is focused on innovation, connectivity, value and benefit for communities throughout Scotland. Unlike previous DfT led procurements which have focused on price, the ScotRail franchise competition includes a heavy emphasis on quality. 35 per cent of the evaluation marks are available for improvements to current services reflecting the rail priorities which the people of Scotland have told us are important. Bidders for this franchise must commit to ambitious improvements if they want to win.
"The new contract will ensure an improved service for commuters, disabled passengers who wish to travel more spontaneously than current provisions allow, tourists and cyclists as well as a better deal all round for all those using our railways.
"We will continue to mandate our fares policy of providing an affordable travel choice. Peak fares will not rise more than inflation and off-peak fares will fall in real terms (RPI minus 1 per cent). We have listened to the voice of passengers and know that the continuation of this policy will continue to encourage more people out of their cars.
"This investment presents the franchisee with opportunities to increase passenger satisfaction, drive growth, and improve services. We expect the franchisee, working closely with Network Rail, to deliver operational efficiencies, to take an innovative approach to areas such as wifi and smart ticketing and, importantly, protect the interests of passengers when capital improvements, such as the Edinburgh-Glasgow Improvement Project, are being made.
"The specification that I have set is challenging, but it will deliver real benefits to passengers as well as meeting the needs of the taxpayer for greater efficiency in the use of our resources. With five experienced railway operators bidding for the franchise -- each committed to realising our ambitions -- I am convinced that this strong competition will generate innovation and efficiency to deliver a great public rail service for the people of Scotland."
The shortlisted bidders are Abellio, Arriva, First Group, MTR and National Express, who will now develop their detailed proposals for submission in the spring. The winning bid will be announced in the autumn and the contract will start in April 2015.
Early reactions were mainly favourable. Transport Scotland quoted the chairman of the Scottish Association for Public Transport John McCormick as saying that the ITT would 'require bidders to plan major improvements'.
Dr McCormick continued: "Faster intercity journey times, better trains, development of tourist services and greater provision for cyclists are all welcome developments. Service standard requirements and fares regulation are significantly better than in other parts of the UK. Transport Scotland has clearly listened to responses to the consultation exercise carried out last year."
The pressure group Transform Scotland also welcomed the opportunities ahead, but its spokesman Paul Tetlaw warned: "The intercity routes connecting the Central Belt to Inverness and Aberdeen have been allowed to stagnate while the focus of expenditure has been on improvements to the road network. During the period of the next franchise we need to see this process reversed with new longer trains, better onboard facilities and dramatic enhancements to journey times."
Reader Comments:
Views expressed in submitted comments are that of the author, and not necessarily shared by Railnews.