Posted 7th January 2013 | 14 Comments
Call for HS2 to go to Stratford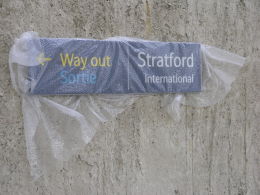 Stratford International was completed in 2006 but the wraps only came off in November 2009, when Southeastern High Speed trains began calling there
A FORMER British Rail director is calling for the Government to think again about the London terminus of HS2, saying that Stratford would make a better hub than Euston, particularly as two of the platforms at Stratford International are currently unused.
Southeastern High Speed trains call at two of the four platforms, but the original vision for the £210 million station as an additional stop for Eurostar or other continental services has yet to be realised.
Current plans for Phase 1 of HS2 connecting London and Birmingham include a major new hub in west London at Old Oak Common, where there would be an interchange with Crossrail, and a High Speed terminus at Euston.
Although the case in favour of Euston includes regeneration in the area, opponents have expressed concern about the disruptive effects of the project in a busy part of central London, which will include the demolition of more than 200 homes, and also the ability of the Underground to deal with HS2 traffic.
Now Dick Keegan, who is a former director of projects at British Rail with more than 50 years' experience in the railway industry, has said he believes Stratford would provide better links to airports and continental Europe.
The Department for Transport has defended the current plans, which have been prepared by government-owned developers HS2 Ltd, saying Euston had been selected after a 'careful review' which included local development prospects.
Meanwhile, the countdown is on for the publication of the details of Phase 2, which will take HS2 onwards from the West Midlands in two spurs – one to Manchester and the other to Leeds via the East Midlands and South Yorkshire. Some reports are suggesting that a new wave of opposition will follow in affected areas en route.
The Department for Transport said transport secretary Patrick McLoughlin would be revealing the preferred routes for Phase 2 shortly, 'with a view to minimising the impact on local communities and the environment', and that 'any speculation ahead of this would be irresponsible'.
A decision is also awaited from the High Court about the case for a judicial review of Phase 1, which was presented by objectors in early December.
Reader Comments:
Views expressed in submitted comments are that of the author, and not necessarily shared by Railnews.
David Faircloth, there is one equally important question: not HS2 and me. How will you future journeys be affected if HS2 is not built.

This is especially relevant for the commuter services on the West Coast main Line. The services are already ludicrously overcrowded and I dread to think what they'll be like in 2025. HS2 will help by diverting longer-distance services that don't stop anywhere on to another line, enabling the number of stopping services to be increased.

How much this will benefit people who use the MML is harder to predict. We don't know what the post-HS2 service pattern will be, but the rough idea is that ECML and MML services will be about the same as what they are now. So if the HS2 route doesn't go where you want to go, you can still use the old line. The difference is that MML passengers will be split between two routes instead of the one we have now. MML passenger numbers may be manageable today, but we have no idea what they will be like in 2033. It might be that MML trains are still able to cope with the passenger numbers. Or it might be that they will be the same then as LM trains out of Euston are now. The more journeys that go on HS2, the more relief it provides on MML services.

In short: HS2 can benefit your journey even if you never set foot on a HS train.

HS2 is in reality WCML2 and as such needs to begin at Euston. Which is where the passengers travelling to the West Midlands, North West England are!

Besides which Stratford International does not have the capacity that HS2 needs to supply to meet future demands.

It should be remembered that HS2 will bel come the route existing Pendolinos will use instead of WCML and therefore Euston is where HS2 has to start!

This is just a case of NIMBYs clutching straws as long as it goes anywhere else then that's O.K.

Using what is known so far about HS2, I suggest you all do an "HS2 and me" exercise, using as many trips as you can remember having made over the last, say, ten years; think how you would make them today, not as you actually made them (so, for example, a 'Eurostar' journey made from Waterloo would be made from St Pancras), then work out how you would make them if HS2 was an option.

Much to my surprise, I discovered when I did this that HS2, as presently proposed, brought me very few benefits; possibly trips to Excel via OOC would improve, but I discovered most of my destinations in London were reached via the Piccadilly Line, and the thought have having to drag a suitcase from St P to Euston after arriving in the evening on a 'Eurostar' is, I'm afraid, very off-putting.

And then, of course, I've got to get to and from the new East Midlands station; the initial report suggested a station in the Kegworth area, but local news reports have suggested Toton. Have any of those who are making such suggestions actually tried to get along the A52 between Derby and Nottingham in the peaks? And have they sat in a traffic jam on the A50 or A453 as they approach Junctions 23A/24/24A? Its bad enough on a normal day; just try it when racing's on at Donington Park!

What's important to me is point-to-point journey times; and convenience. Once electrification of the Midland Main Line is completed, the journey time from Derby is going to drop to about 1hr 15mins/1hr 20mins; the extra time taken to get from my home to an East Midlands station will probably be greater than the saving being proposed from HS2.

And what will happen when I go to Birmingham?

I guess my journey to New Street are split 60/20/20 - 60% through, 20% interchange, and only 20% actually to Birmingham itself; what will happen post HS2?

Will the current NE/SW services go? Will I have to walk from Fazeley Street to New Street if I want to go beyond Birmingham?

I haven't seen the answers to any of these questions; has anyone else?

This is, of course, my take on the "benefits" HS2 will bring; very, very, few.

Am I unique? I don't think so; for after completing my "HS2 and me" exercise, I thought about family and friends, how they would benefit from HS2, and then tried to expand it to work colleagues. And these seemed to reach the same conclusions; at best, very, very, few benefits.

So are we really getting what we need?

Why can't there be both a terminus in Euston and a link to HS1. Of course most people don't want to actually go to the area immediately around Euston, as Richard from Maidenhead points out, but they do want city centre to city centre travel. Euston is in central London, Stratford isn't.

However, Old Oak Common and Stratford Intl would both be infinitely more useful than Euston for residents of west and east London, so there's no reason why they shouldn't also be linked (except for perhaps budgetary constraints).

I also agree that it is important for there to be a physical track link to HS1 because getting direct trains to the continent from regional cities will make a big difference to their economies. I expect that one of the reasons why the national economic recovery remains rather London-centric is that the capital is the only UK city connected to the European high speed rail network.

Trains on HS1 don't even stop at Stratford suggesting no demand to stop there.. Euston.or Kings Cross [even Farringdon] would far more sensible. In addition a connection or link to Heathrow makes far more sense.Who wants to go to Stratford? Not many work there Only people who live in the N eastof fLondon will benefit

What about Waterloo international instead? Perhaps even Stratford International and Waterloo International.

This is an emminently sensible suggestion, as long as HS2 has it's own alignment between OOC and HS1. How many passengers will actually want to go to the Euston area? Not many. So interchanges at OOC in the west and Stratford in the east provide many more journey opportunities. Both sites are or at least will be very well served by other rail lines including Crossrail. There is no need for all the disruption that rebuilding Euston will cause.

@Chris Neville-Smith: "Too much obsession over HS1 integration, in my opinion. It would have been nice to have had a single central terminal for both HS1 and HS2 which both integrated with the London Underground network"

Great idea but ask yourself why it didn't happen - a combined St.Pancras / King Cross super interchange would have fitted the bill - but what scuppered that idea was the same malaise afflicting almost all infrastructure planning in the UK - short termist blinkers

When the Kings Cross site was redeveloped this short termist / business (it amounts to the same thing) approach demanded a return on the investment ASAP so what did they do - sold off much of the land surrounding the Kings Cross site to developers in order to turn a fast buck and drive a return on the money invested - in double quick time!

Along comes HS1 and its St. Pancras a few years later and the idea of an enlarged Kings Cross / St Pancras site couldn't come to fruition because it would have cost too much to break the huge financial contracts already entered into at the Kings Cross site

So yet again, UK plc scores a big fat fail on the "Long Term Vision- ometer"

I cannot believe how dumb this suggestion is.

What is the point of building a high-speed railway that saves hours on inter city travel, if you then extend customer journey times by an hour having to get out to Stratford ?

Having the terminus at Stratford, (or Old Oak Common), defeats the whole object of building the line in the first place.

I have continually stated for years, less time than the Chinese take to build 1000km, we cant get 150km's even the ground broke...
HS2 should be 4 LGV lines between Birmingham and the M25, two go to LHR and onto LGW and around to connect with HS1 near Maidstone.
The other two lines go to the new station at Old Oak Common, built for once with east and northwest traffic on different levels for easier interchanges. Then at LHR the 2 lines split - 2 going to LGW/HS1 and 2 going to OOC and rejoining the 2 lines direct from the north.
2 lines terminate at Euston. 2 lines are straight lined tunnelled through London with one intermediate station between Euston and St Panc/ Kings X - 30m down with west exit to Euston, east exit to St Panc/Kings X.
then the line continues to join HS1 at Stratford!

How LOGICAL is it to design for the 21st century instead of building for the 19th Century?

Additionally the LHR - LGW - HS1 (near Maidstone) - TEA (thames estuary airport) - Stanstead - Luton - LHR = a circular route to connect all the south east's airports to be essentially a people mover. This loop would have extensions to CDG/Brussels/Schipol/ and in UK (B'ham, East Midlands, all the way to Glasgow and Edinburgh Airports)

At speeds up over 450kph, it would make Scotland to CDG in less than 2 hours.

If you want a diagram, leave a message and I will draw it so even a non Railway person can understand it. It is ONLY LOGICAL - for ONCE in UK!

No curves, straight lines to get maximum speed. If the NIMBY's do not want to look at concrete elevated sections, simple solution, they can sponsor or pay privately or do a local fund raiser for their span/section to have a Portland stone fašade!!! Nice little way to tart it up! and shut them up!

HS1 was designed to go on from Stratford to the North in the first place. I have always thought that to take away passengers from air travel you would have to connect direct with Eurostar. Dumping all the new HS2 Passengers at Euston either to walk to Kings Cross or take the over-crowded Underground always looked stupid. Having another interchange near Old Oak Common is equally stupid. Passengers do not like changing trains. It causes delays, luggage needs hiking around and connections can easily be missed.

HS2 needs a central london station and terminus, stratford is just too far out for the captive market.

My suggestion however is to abandon the connection to hs1 on the north london line and instead use the tunnel to go underneath Euston and have 2 subterrainean platforms between Euston and st Pancras.

This can then surface at stratford to join hs1

If you think about it, these could be eurostar platforms 7 & 8 and so regional eurostar could call there using the same customs facilities as st pancras. There could also be a travellator on the top level so there is a passenger link between the 3 main stations.

Saves taking capacity from the north london line and provides a future proof link to hs1, a footpath link between the 3 major stations making a complete london central with all platforms connected

Too much obsession over HS1 integration, in my opinion. It would have been nice to have had a single central terminal for both HS1 and HS2 which both integrated with the London Underground network, but I cannot see how you could do that without a ludicrous amount of demolition. However, given the choice between integration with HS1 or a terminal in Central London, give me Central London any day.

The fact is, the destination of most people on trains to London is London. Only a minority travel onwards to Paris or Brussels, and I cannot see this changing any time soon. Connections at Straford International aren't bad, but they aren't great either. All you are doing is trading a long walk for Eurostar connections with a long walk for anyone going to London.

In addition, I have no idea where Mr. Keegan proposes to put this terminal. The Euston terminal is supposed to have 10/12 terminal platforms for HS trains, and as HS1 services are going to need all four platforms once you're stopping Eurostar services there, you'll probably have to build 10-12 new ones. But with Stratford International being in the middle of a certain very high-profile regeneration zone, you can either stick them to the south and demolish the newly-built Westfield Shopping Centre, or stick it to the north and demolish ... err, the Olympic village.

I can see an argument to send the occasional HS2 service to Stratford instead of Euston. But unless Mr. Keegan has somehow been misreported and he's planning something entirely different, this is a woefully badly thought through idea from someone I would expect to know better.