Posted 26th June 2012 | 5 Comments
Mayor unveils fourth tram route in Croydon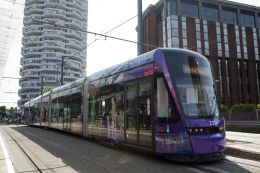 THE MAYOR of London has launched a new tram route in Croydon, following the delivery of six additional trams for the London Tramlink fleet.
The new route runs over existing infrastructure, but now provides a direct service between Therapia Lane and Elmers End, via East Croydon station.
The introduction of Route 4 was made possible by the purchase of six new Stadler trams, which arrived earlier this year, and means that the frequency of trams through central Croydon will rise to 12 an hour.
Transport for the London said the £16.3 million investment in the new trams is part of a wider regeneration of Croydon supported by the Mayor, including a £23 million investment which is being used to help restore the Reeves Corner area following the damage caused by riots last summer. The new trams have also been funded in part by Croydon Council which contributed £3m.
Improvements to the Wimbledon Tramlink line are also expected by the end of the year. Doubling between Mitcham and Mitcham Junction will remove a bottleneck, and make it possible to increase frquencies on that line in the longer term.
Mayor Boris Johnson said: "These superb new tram services are essential to Croydon's long term prosperity, which in turn feeds into the capital's economic success. Fast and efficient transport links not only make Croydon a more convenient place to live and work, but also attract businesses that will deliver much-needed jobs and economic growth putting Croydon firmly on track for the future."
However, although passenger figures have risen by 45 per cent to 29 million annually since the system opened 12 years ago, proposed extensions are still on the drawing board.
The most likely project would extend tram services to Crystal Palace but a number of further routes have been suggested, including one to Sutton.
Reader Comments:
Views expressed in submitted comments are that of the author, and not necessarily shared by Railnews.
So, apparently these trams will be used for line 4 (but will slip onto other lines as well... Bit ridiculous if you ask me, there's a reason why I use buses to get from Croydon to New Addington, the trams are always packed! In peak times you can't even get on the New Addington tram and if you do manage to get on then in the hot weather your greeted by a hot smelly packed tram, where as very rarely have I seen the Elmers End lines jam packed like the New Addington line, so personally I think these longer, air conditioned, new trams should be put on line 3 which, being the longest tram route, would make journey's much more comfortable.

Let's see more investment in both light and heavy rail. Good public transport gets people out of cars and back onto bikes, rail, walking etc.

@Melvyn: so Elmers End is accessible then? Surely it is more important to put lifts where access is impossible?

Elmers End is a National Rail station managed by Southeastern over which TfL have no control. TfL could likely offer to pay for the work to connect the tram platform and bus station, but it would be up to Network Rail and Southeastern to do it.

I visited Croydon yesterday and arrived by bus at "so called" Elmers End Interchange yet with Elmers End Station has still had no lifts installed so for wheelchair users who want to access the tram (which is on opposite side of tracks to Bus Interchange!!) they have to leave Interchange abd return to street level then go over the railway and then use ramp on opposite side of tracks. So why has Boris not installed lifts at this importent station?


As for new trams I only had a short 1 stop ride on one from Centrale to West Croydon and so cant fully comment, However, when I was at West Croydon 3 trams rans in quick succession it must have been what it was like at the Elephant and Castle 60+ years ago, pity Boris cancelled Cross River Tram as it could by now be like it once was again!!!

As for new route its extensions that are needed with Crystal Palace taking top place with plans for Bromley and Sutton, while an extension throgh underpass near East Croydon could provide an extension to South Croydon Aerodrome!!

With a government that is pro tram Boris is wasteing opportunity for London to get tram funding that cities like Manchester and Sheffield are getting.