Posted 13th April 2012 | 12 Comments
More trains 'on time', but now goalposts may move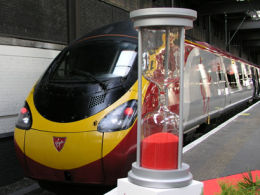 91.9 per cent of Virgin services were officially on time in March, compared with 90.6 per cent a year earlier
THE INDUSTRY is celebrating its operating performance last month, which was the second best during March since privatisation. 93.4 per cent of trains were officially 'on time' and all operators achieved at least 90 per cent for 'one of the very few times in recorded history', according to Network Rail.
But it's also reported that ministers are considering whether the five- and ten- minute punctuality margins should be reduced, with ominous implications for the performance tables.
At the moment, commuter trains which are up to five minutes late at their final destinations are still considered to be 'on time', while for intercity services the equivalent margin is 10 minutes.
This flexibility can conceal greater delays en route, and it is an open secret that some schedules have been 'padded' with extra recovery time in recent years to make it easier for drivers to reclaim some vital minutes in the closing stages of a journey.
Watchdog Passenger Focus has been campaigning for a tightening of the rules for some time, and transport minister Norman Baker was also a supporter of the idea when the Liberal Democrats were in opposition during the last Parliament.
Now Mr Baker has told The Guardian that a review is under way in which 'nothing is off the table', including precise right time measurements.
"Punctuality is very much on my radar and I have been examining this for a number of weeks," he is reported to have said. "As a Coalition Government we should be determined to drive up performance on the railways."
Mr Baker can count on support from Passenger Focus. A spokesman for the watchdog said passengers want their trains 'actually on time', not up to five or 10 minutes late.
The spokesman added: "To drive passenger satisfaction higher, the industry should focus on running trains to the timetable – not just at the final destination, but at intermediate stations too. We understand that there are ongoing discussion about how future targets are set."
ATOC has yet to comment, but it seems unlikely that the plans will be welcomed by train operators, because performance statistics are also used to calculate compensation payments to passengers for late running. This chain of refunds can also include Network Rail if the cause of the delay was a fault affecting signalling or other infrastructure.
Reader Comments:
Views expressed in submitted comments are that of the author, and not necessarily shared by Railnews.
With the ever increasing amount of passenger trains we run on the railways, your always going to get a bit of padding to keep each service apart from each other. This is why some services can depart late, and recovery time en route.

I know in South Wales, one of the bus operators during the AM / PM peaks makes journeys longer in to and out of Cardiff. The journey time in to and out of cardiff remains the same.

I agree with and support the move to recording punctuality down to the minute both at final destination and all intermediate stops. However, how this would be reported and the details of the associated changes to systems & processes remains undefined.

There are a few issues though - excess congestion, the current poor reliability of some of the infrastructure under current loading, lack of dedicated routes etc, would make this meaningless in the near term since the figures will come out very low.

In the medium term the infrastructure improvements, the trend towards driverless trains and generally minimal human intervention in train movements will help make this feasible, and this should be brought forward.


How can a train from Edinburgh to Penzance run say 30 mins late all the way from Scotland to Cornwall but arrive at Penzance 9 minutes late be classed as on time?

I Actually do not care about the 'on time' or 'late' status given to each train journey. What I am more concerned with is year on year, each train journey is being padded out with extra time and thus the train is actually travelling 'Slower' to it's destination. I live on the GWR mainline, a line that is straight, level and could actually carry trains at 400kph, but with the padding out of trains to paddington, my HST (yes they are the oldest running stock in the UK and probably the EU) barely runs at half the speed it should be running. IF I am going to be on an over crowded overstuffed train and charged over priced fares (they have doubled in under 3 years on FGW - DOUBLED!) I want my journey to be as fast as is mechanically possible for the train, with current stock that is 140 to 150mph. Not the 70mph that stops near the LHR spur and sits for 10 minutes and turns what could be a under 10 minutes from Reading to Paddington to a 29 minutes journey - but is ON TIME because it is under the scheduled 30 minutes on the padded to paddington time tables. Appalling!

I moved to Reading just over 4 years ago because of the frequency and journey times of the HST's from Reading to Paddington. When I first moved to Reading the Scheduled time was 19 to 23 minutes, year on year this has creeped up to where all are scheduled for 30 minutes - voila - Every train now arrives ahead of Schedule!
To accentuate the actual travel time, a 1700 Paddington to Reading train was scheduled about 18 months ago to be 27 minutes (arrival 1727), the driver was delayed so the the train was 12 minutes late in departure, so the driver "made up time" by going at a faster speed, the delayed train arrived in Reading at 1726. A full minute before it's scheduled arrival time and wow it was nice to actually go at over 125mph for once on the GWR!
So when I see headlines of trains arriving within targets, yeah they are, but ONLY because the targets have all changed!!!

Isambard - You say that 'On time' should mean ON TIME.

This is simply a facile and meaningless statement. It is entirely reasonable to have margins when measuring punctuality. By all means argue about the size of the margins but they cannot be zero.

Just to be clear - all time measurements, like all measurements, have error margins. And even if you propose timing trains by atomic clocks you will have to take into account relativity, simultaneity and the relative velocities of the trains in addition to the errors inherent in the clock.

It has always perplexed me how arriving 5-10 minutes late could be regarded as being 'on-time'. 5-10 minutes late is exactly what it says, particularly when trying to make a connection that is spot-on time. It has always been frustrating that on-time performance has been measured at the terminating point, with intermediate stations largely ignored. I may be wrong but I suspect commuters and other passengers may be more receptive to fares increases if train timing was more reliable. Hopefully, ministers are starting to realise this and drop the 5-10 minute 'slack' in timetables.

Passengers want punctual trains when they are on them, otherwise they have no problem forcing train doors or infact obstructing them for "late boarding passengers", as a driver i can tell you a lot of delays are caused this way.

Fine, make the margins tighter. As long as the same rules apply to airlines and express coaches I have no problem.

The private motorist will of course continue to live in his little dream world of not having a clue just how much delay he has taken.


'On time' should mean ON TIME and not '10 minutes late'.
With the amount of IT system monitoring train locations there's really no excuse for only measuring punctuality at the end of the journey.
Cooking the figues just gives the industry a bad reputation.
If the compensation rules also need updating then so be it.
I've always thought what is needed is an international standard for train punctuality measurement, so we can reliably compare our performance with other nations. I think we might be pleasantly surprised.

For us commuters, yes punctuality is more relevant at intermediate stations in the evening; several of them are bigger than my train's final destination, Littlehampton, which accounts for fewer than 10% of passengers.

But I hope the cost of gathering all that extra info is not significant, otherwise it will negate any potential benefit.