Posted 9th March 2012 | 8 Comments
Critics raise their voices in wake of rail plans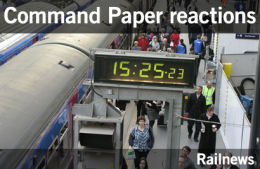 THE TRANSPORT SECRETARY'S plans to cut railway costs by £3.5 billion a year without indefinite inflation-plus fare rises have received a mixed reaction.
The likely cost of rail travel in future is still causing concern to many of her critics, while unions are warning of industrial action as a response to the massive job losses they fear.
Justine Greening published her Command Paper yesterday, saying: "The hallmarks of our railway must be high standards and low costs… a railway that offers the best services and the best value. That means a rail network which is efficient, effective and affordable."
Although many details have yet to be published, Ms Greening said the main point was that costs had to come down, achieved by a mixture of reforms.
Her proposals also include reforming rail franchises, so that 'operators have to deliver more value and better levels of service for passengers while ensuring taxpayer subsidies are concentrated on safeguarding less profitable routes', boosting the powers of the Office of Rail Regulation and 'involving rail workers in our plans to get the industry on a more sustainable footing, to grow jobs and to develop skills'.
The prospect of greater involvement of the ORR in controlling the railway, and perhaps directly policing franchised operators, had already received a bleak response from ATOC, when its chief executive Michael Roberts said: "It is absolutely right that operators be held to account in providing passengers with the service that they expect and deserve. But the proposed extended role of the ORR will not help to deliver better services at a lower cost.
"The oversight of operators should remain with the franchising authority as part of longer, less prescriptive franchise agreements. The main challenge for the ORR is to focus on regulating the infrastructure provider at a time when Network Rail is changing significantly the way that it operates."
But the new Command Paper says: 'We want to move towards an Office of Rail Regulation empowered to pursue whole-industry efficiency. Train operators must improve their efficiency in ways that are visible on the bottom line.'
After the new paper appeared, Michael Roberts added: "Contracts signed between rail operators and Government over the next two years will define how trains are run for the next two decades. The Government must genuinely step back from the detail, give the railways the freedom to run better services at a lower cost and resist increasing the burden of red tape."
Although some reduction of 'micro-management' does seem likely, a loosening of restrictions – particularly on some fares – has dismayed many observers.
Anthony Smith, the chief executive of watchdog Passenger Focus, warned: "No-one could disagree with the need for a more efficient and cost-effective railway, but what matters to passengers is how all this reform actually pans out in practice. How will it affect the way we travel? Changes to the way the railway is run and fares system need to pass two tests: will passengers find the changes both affordable and acceptable? How reform is implemented is crucial if confidence in the railways and the ticketing system is to be shored up and value for money ratings pushed up."
The Campaign for Better Transport has also raised concerns, saying: 'Today's announcement contains many of the ideas we have called for, including discount fares for part-time workers and more smart and integrated ticketing. More powers for the regulator to take up passenger issues are welcome too. But all of this will be overshadowed if operators are allowed to charge premium fares on busiest services, which together with the existing plans for above inflation fares rises for the next two years, will mean massive fare increases for thousands of people.'
Rail unions, too, are opposing many of the proposals, especially those concerning a potential break up of Network Rail into regional units.
Ms Greening's Paper says: 'Government is committed to exploring the full menu of options for promoting greater alignment, including options to place responsibility for train operations and infrastructure management in an area in the same hands. We also believe that decentralisation of certain functions within Network Rail and the formation of alliances with train operators is essential if we are to make Network Rail more accountable to its train operator customers.'
RMT general secretary Bob Crow responded: "This plan sets us on course for a return to the dark and dangerous days of Railtrack that led to the disasters of Hatfield and Potters Bar.
"At least 12,000 jobs are placed at risk as a result of this industrial vandalism on the tracks. The assault on jobs and working conditions set up by McNulty, and now mirrored by the Government, will be met by a national campaign of resistance including industrial action."
"This whole Command Paper could have been written by the private train operators who want longer franchises and the right to jack up fares and to seize control of infrastructure so that they can continue to rack up billions of pounds of profits and dividends while charging the highest fares in Europe to travel on the worst services. If the Government want to save 30% of the current rail costs they could do it at a stroke by ending the fragmentation and exploitation which is enshrined in privatisation and by returning to a railway run under public ownership as a public service."
The Command Paper is only the start of a period of changes, and many decisions have yet to be made.
Consultations have now been started by the DfT on the future structure of fares and railway decentralisation.
Reader Comments:
Views expressed in submitted comments are that of the author, and not necessarily shared by Railnews.
The companies with the best value for money, best customer satisfaction and among the most reliable are the open access companies such as GC and HT. Why can't we switch the franchises to open access and have many companies competing to provide similar services. DOR could run East Coast and HS2, and more companies need to be created to compete with First Great Western and Greater Anglia for example.

Yes, franchising leads to the"worst of both worlds" - government control that prevents enterprise, innovation and investment whilst private TOC's rake off shareholder profit for no more than day to day running.

It might be better if those routes where effective competition is feasible were given over to open - access. Other operations( many commuter,eg) that are natural monopolies with captive markets could be run as consumer cooperatives with directly elected management boards.

Instead of subsidy by fixed contract,"incentive payments" could be offered to TOC's to represent"hidden" costs / benefits in the marketplace.

A pundit once said that if British Rail had ever had anything like the sums of money thrown at it that the railways have had since John Major's crazy privatisation, then they (BR) would be running the best railway in the world!!!! (And that was said over five years ago!) Because all the cash used in lawyers' fees and competition/ franchise applications etc. would have been able to be put directly into the railways - and with vast piles left over.

I am not sure if motoring has ever paid its own full costs as the taxpayer/ratepayer provides the highways, emergency services and pays for the effects of crashes and pollution.

To date, the roads seem to get the lion's share of any public expenditure on transport.

Someone suggested re-creating the big four or five railway companies; one could be state owned and one could be mutually owned (by its work force).


The McNulty Enquiry never looked at alternatives to the present organisation of the railway nor compared it to the cost of British Rail. It is the way the railway is structured which has led to the excessive costs and until that is sorted and simplified there will still be those making profit out of it in all kinds of ways. We are having a new round of franchising coming along but why has nobody challenged the whole concept of franchising eg why not have employee non-profit making mutual companies running the franchises with targets set to pay small incentive bonuses to all employees if met?

Every morning at least three or four 'Revenue inspectors' board my train at Bolton. On leaving the station as many as one or two of them actually inspect tickets, the remainder seem to spend the entire journey chatting with the guard in the rear cab. Maybe if these people were better deployed they may secure more revenue. Alternatively, they could be made redundant, thereby saving on two-three unproductive wages and other associated employment costs.

At Piccadilly station in the evenings, there are as many as six to eight inspectors on duty. Mostly with a glazed expression and mono-sylabic response to the average passenger showing their ticket, unless said passengers is female, young, slim and rather attractive. It hen seems to take at least two inspectors to examine her ticket while the rest of the public walk straight past the inspectors.

However I have no doubt the likes of Bob Crowe will fight most vigorously for these people to retain their jobs and continue chatting and socialising at the cost of the traveller.



Flying and Motoring not only cover their costs but also provide a huge amount in taxes to the Government. Apart from rural railways why can't and shouldn't travel by train do the same ? Since privatisation everyone in the Industry has got as much as they could out of it .... shareholders, Network rail bosses and also everyone who belongs to the RMT and ASLEF. The railways are subsidised enormously by the Taxpayer, - and they and the traveller should be able to insist on value for money. As many travellers realise they are a captive audience and normal rules of economics do not therefore apply to our Railways.

Reducing the Government's and the Whitehall bureaucrats involvement in the railways is a step in the right direction. It is questionable if the ORR in its current form is up to the job that is now being proposed for it, but a further shake out of heritage management altitudes will help it during the transition.

To be realistic though, there are still provincial services that must be cut in order for the industry to achieve the financial independence that the paper seeks to deliver. The issue of over naming in the industry is also another critical factor that must be addressed bring the finicial health into balance.