Posted 23rd February 2012 | No Comments
Plant firm sell off triggers opposition from RMT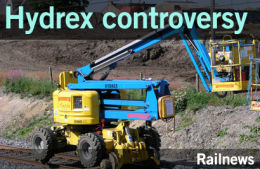 NETWORK RAIL is planning to return a rail plant hire firm to the private sector, but the idea has been met with opposition from the RMT union, which claims the move will put hundreds of jobs at risk.
NR bought the rail division of Hydrex from its administrators in November, saying at the time that "the purchase has secured hundreds of jobs while making sure we can deliver as planned our programme of maintenance, renewals and enhancements across the rail network. Our priority in making this purchase is to ensure continuity of works".
The purchase was approved by the Office for Rail Regulation, and included the transfer of all rail division staff as well as more than 300 road rail vehicles.
The division then became a subsidiary of Network Rail, known as Network Rail (NDS-Plant) Limited, but NR has now started an industry consultation over selling the business.
Martin Elwood, director of Network Rail's National Delivery Service, said: "The purchase secured hundreds of jobs and meant Network Rail and its partners could deliver the vast majority of planned maintenance, renewals and enhancements across the rail network over the busy Christmas and New Year period.
"My thanks go to the transferred Hydrex staff and the NDS-Plant management team for their efforts in ensuring this much-needed continuity. Our plan is to continue to deliver high levels of safety and performance while Network Rail seeks a suitable buyer for NDS-Plant."
However, the RMT claims returning the former Hydrex to the private sector will put jobs at risk once more, and has appealed to NR chief executive David Higgins to think again.
The union's general secretary Bob Crow said: "RMT has built a solid union organisation within the former Hydrex workforce and we intend to use every tool at our disposal to persuade Network Rail to call off their plans to throw these workers back out to the mercy of the private sector.
"Network Rail did the right thing back in November last year when it bought the collapsed Hydrex from the administrators to save over 500 jobs and to bring a core aspect of NR's business in house.
"To risk an action replay of that catastrophic private sector failure, just a few months later, makes no operational or business sense whatsoever."