Posted 13th February 2012 | 3 Comments
Trains for Scotland 'should be Scottish owned' call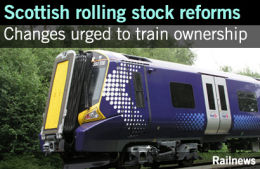 The most recent new trains for Scotland are these Siemens-built Class 380 electric units
A TRANSPORT pressure group says the next generation of new trains for Scottish routes should be owned by the government, rather than be leased.
Transform Scotland has made the call as a consultation continues on the shape of the next franchise north of the border, which is to start in 2014.
Paul Tetlaw of Transform Scotland explained: "One of the failures of rail privatisation was the decision to hand over ownership of the nation's trains to the private leasing companies rather than retain the trains in public ownership. We believe that there is a good case for any new trains procured by the Scottish Government to be owned by the state rather than be leased under the failed model pursued in the 1990s.
"In Edinburgh the city council is now the proud owner of its own set of rail vehicles. Whatever the problems that have beset the infrastructure works for the Edinburgh tram scheme, Edinburgh Council was able to acquire a fleet of light rail vehicles in a relatively trouble-free fashion. As such, we see no reason why the Scottish Government shouldn't own the nation's trains rather than see them be leased from a profit-seeking private entity."
The Scottish Government agency Transport Scotland has set out a number of options for the country's railways as part of its consultation. One possibility is the creation of several franchises in Scotland after 2014, divided by type of service, and hackles have been raised by another suggestion that some of the least-used stations could be closed.
But ministers have already been quick to dissociate themselves from those parts of the plan which have encountered public opposition, saying that the ideas put forward are no more than suggestions, which should not be taken to represent government policy.
Reader Comments:
Views expressed in submitted comments are that of the author, and not necessarily shared by Railnews.
Good idea. No doubt there will be a long, tedious and unnecessary debate about it which will drag on for months. I find it strange that the Scottish government want to amalgamate the police and fire services into 1 body to save on costs, but split the rail franchise at the same time.
Seems to me like change for change sake. It's as if the Scottish government want to stamp their mark on anything they can just to prove they do things differently.

I am not sure that Scottish taxpayers would agree to their Government spending £millions buying every train that runs north of the border. Perhaps one way is to ensure that ScotRail is only ever operated by either Scotland-based First Group or Stagecoach.

A very good idea ,basic maths surely states that as long as you know your railway system is likely to be still here and operating in 30 to 40 years time,then it has surely got to work out a lot cheaper to simply buy your passanger stock outright, rather than constantly paying extra for the multitude of staff, admin and expertise needed to devise and operate complex leasing schemes and make a profit for the leasing company.