Posted 18th October 2011 | 2 Comments
Police launch probe into Eurostar train death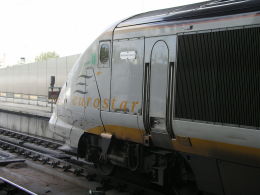 BRITISH TRANSPORT POLICE are investigating the death of a young Albanian man who forced the emergency door release of a Eurostar train while it was travelling through Kent and jumped out.
The incident happened last night at Westenhanger, near Cheriton.
It is said that he was being deported, but that his unaccompanied departure from Britain was 'voluntary'. Police are not treating his death as suspicious.
Eurostar said the train was the 17.04 departure from St Pancras International, bound for Brussels. It was travelling at about 140km/h when the incident occurred, because it would have been slowing down on the approach to the Channel Tunnel.
A Eurostar spokesman explained that the man would have had to tear off a protective plastic cover and then pull a lever. At this point an alarm would have sounded in the driver's cab, but the man had managed to open the door manually before the train could be brought to a stand.
The spokesman added that everyone involved was 'very shocked', and that the incident would be investigated fully. However, there was nothing to indicate any fault in the emergency door release mechanism, which is required by safety regulations so that passengers can escape if there is a crisis on board.
The man is believed to have been 22 years old and had arrived in Britain earlier the same day, only to be refused entry.
Eurostar services were delayed for most of the evening as a result, with the High Speed line only being handed back by the police just after 22.00.
It's believed to be the first incident of its kind since Eurostar services were launched in 1994.
Reader Comments:
Views expressed in submitted comments are that of the author, and not necessarily shared by Railnews.
No doubt railway will be blamed and not individual. Special inquiry will be set up with legal profession making a mint. Last for 2 years cost £5million.
Recommendations
1 A extra door be fitted on the outside of each door in case passenger inadvertanly opens inner door

2 Inner door emegency lock be fitted with secondary emergency lock.

3 All trains be subject to a 10mph limit and ballast to be made of rubber chipppins just in case these fail
4 All passengers to be subject to 20min instruction slide show before train departure.

I am NOT joking