Posted 2nd November 2010 | No Comments
Rail growth continues to defy downturn in economy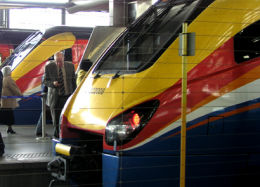 East Midlands Trains is a Stagecoach franchise. The others are South West Trains and a 49 per cent share of Virgin
NEW trading figures from one franchise operator suggest that rail is continuing to shrug off the effects of the economic downturn.

The news comes after the government gave operators greater latitude to increase fares from January.

Stagecoach has announced that its rail franchises in Britain produced 'like-for-like' revenue growth of 6.5 per cent in the 24 weeks to 17 October, but that Virgin Rail, in which it has a 49 per cent interest, grew over the same period by 15.2 per cent.

The Group said it remained on course 'to meet its expectations of profitability' for the year ending 30 April 2011.

Apart from its share of Virgin, Stagecoach's main rail franchises are South West Trains and East Midlands Trains. Its tram operations in Sheffield and Manchester are not included in the new figures.

The revelation of growing revenue may fuel protests from rail users and unions over the prospect of sharp fare rises.

The government has restored the 'flex', suspended by the previous government, which allows each operator to increase some regulated fares by as much as RPI+5 per cent. Other fares must, however, be constrained or even reduced so that a 'basket' of fares for each TOC rises by an average of no more than RPI+1 per cent this January.

There is more to follow in January 2012, when the limit on each TOC's 'basket' will rise to RPI+3 per cent for the following three years.

The Association of Train Operating Companies has insisted that this change will not add to its members' revenues.

It said the additional income will be passed to the government, because franchise agreements include provisions to adjust payments to the Department for Transport if the RPI formula changes.